Oran "Nanny" Pape #40
April 30, 1936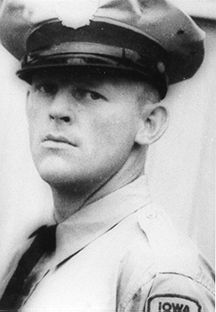 On April 29, 1936, Pape was traveling on old Highway 61 near Fairport about 5 p.m. when he stopped a car believed to have been stolen.  As he approached the car, the driver, Roscoe Barton, a 23 year-old parolee from Davenport, pointed a gun at Pape and ordered him into the car.  As they proceeded down the highway, Pape grabbed Roscoe and the two men struggled.  Two shots went off, one striking Roscoe in the head killing him instantly.  The other went into Pape's abdomen and groin, wounding him extensively.
Pape was able to stagger out of the car and hail a passing vehicle for help.  He was rushed to Hershey Hospital in Muscatine where doctors tried in vain to save him.  He died early the next day, the first member of the Patrol to die in the line of duty and the only officer murdered.  Nanny Pape was one of the "Original 50" Iowa patrolmen.